Is it smart to use an indoor camera as a baby monitor in St. George?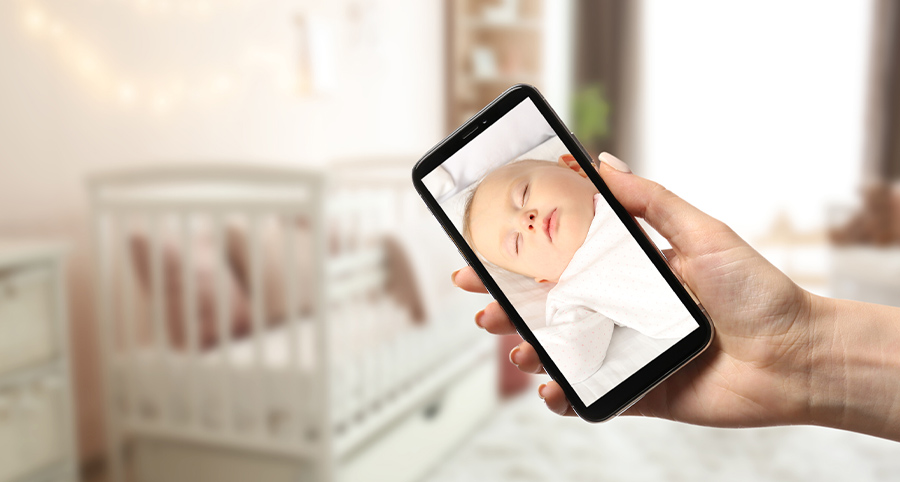 Your new nursery is close to being complete for your darling little one. You dedicated quite a bit of time assembling the cradle, decorating the walls, and piecing together the changing station.You even finished up the room with some cuddly toys on a shelf. But how will you monitor your baby? You can choose the customary method with a ordinary audio monitor or take it to another level and use the tools already accessible to you in your comprehensive home security system.
Although it might seem a little unusual to use an indoor camera for a baby monitor in St. George, it's a great choice when you consider the benefits.
Smart home indoor cameras in St. George are ideal baby monitors
One of the most important things to understand is that your indoor cameras are part of a fully integrated system and accessible through a home security app. This gives you convenience and reassurance since you are able to monitor your little one from any location via your smartphone or mobile device. Here are a few more reasons why they are a preferred option:
Real-time high-def video footage: You'll enjoy detailed, high-quality images of your precious one. You may even view recorded segments straight from your phone.
2-way audio: Not only can you hear what's going on, you have the chance to talk to your newborn straight through your indoor camera. This is a helpful tool to calm a troubled sleeper. Even better, you are able to use the audio feature through your cell phone app, no matter where you are.
Enhanced viewing: Your indoor security camera will have a wider viewing angle than most traditional baby monitors. You'll see everything.
Motion-activation with alerts: If your little one decides sleep time is done and wishes to get out of the crib, you are able to receive motion-triggered notifications sent straight to your phone.
One-touch call-outs: Even though this benefit is really for older offspring, it's still worth bringing up. With a single touch of a button, your youngster can reach out to you through the app on your smartphone.
Having your complete smart home accessible in a smartphone app is a terrific perk. If you notice that your baby is having an issue trying to sleep and believe it could be a bit warm in the room, you can alter the temperature on your smart thermostat. In the event they arise, you can turn on the nursery's smart lights to let them know you're on your way. Have a second child? You can use another indoor camera and still have access to them both with a lone mobile app.
Design Your St. George smart home with indoor cameras
Are you ready to use an indoor camera as a baby monitor? Customize your own St. George smart home and benefit from the comfort and security Vivint's modern surveillance equipment can offer. Contact (435) 375-3735 today and learn how we can make your property more convenient and safer for all family members.
Areas Served Around St. George By Smart Security Specialists Your Local Vivint Authorized Dealer